Sponsored Post
Strong Security Should Not Mean Slow Performance
The security threat vector has become wider and deeper as technology has advanced. Enterprises put a series of tools in place that attempt to close up the many possible holes. But it's not all smooth sailing for everyone. Slow performance due to security measures and high overhead can impact employee productivity.
Layers and layers of security often have a negative impact on the employee digital experience and, in turn, on employee productivity. The overhead of security tools and network layers is high and growing. Information Technology organizations should take stock of the impact of their strong security measures. Lost productivity dues to cybersecurity performance problems can be measured in terms of employee digital experience impact and satisfaction with IT.
According to an article by the cybersecurity research firm IS Decisions, large US businesses lose an average of 182 days of employee productivity, annually, as a result of overly complex security measures.
EUEM platforms, like Exoprise, proactively test for poor cybersecurity performance, and ensure enterprise security programs won't be circumvented which might cause more data breaches.
5 Reasons for Poor Employee Experience Due to Cybersecurity
1. SASE Performance, Overhead, and Network Latency Problems
SASE stands for Secure Access Service Edge (SASE) and is a framework that delivers converged network security. It typically involves in data path routing, SDWAN, firewalls, anti-virus, and cloud proxies like those from Zscaler or Palo Alto Security.

All the components of a SASE deployment will slow cloud, data, and application access, including slow proxies, slow antivirus, and high network latency. A superior Digital Experience Monitoring (DEM) product will provide insight into the overhead of slow SASE architectures and the corresponding loss of productivity they cause. A DEM/DEX solution should be able to proactively monitor the components of a SASE solution to detect SASE overhead, network, and proxy outages. A DEM/DEX product should also be able to measure the impact on productivity loss for each employee.
From the endpoint and users perspective, monitoring for slow proxies or SDWAN performance issues is critical to ensuring productivity and that users don't become frustrated with their required security functions. While the benefits of SASE are clear, application performance and employee productivity should not suffer.
2. Single Sign On (SSO) Access, Latency and Reliability
Single Sign On (SSO) technologies such as Azure Active Directory, now Microsoft Entra ID, also require low latency access, fast response times, and high availability. When migrating from an on-premises object directory to something that is cloud-based like OKTA, Ping, or Entra ID, Enterprise support teams should ensure that their cloud services perform well.
SSO platforms often leverage Multi-factor Authentication (MFA) which requires vigilant monitoring to protect against slow MFA authentication and outages. IT leaders do not want to be responsible for requiring security technologies that are faulty or inoperable.
3. Antivirus Programs, Malware Detection Overhead
Antivirus programs, usually mandated by corporate policy, often cause slow endpoints and endless user frustration. Everything from Windows Defender to McAfee Total Protection ends up consuming too many resources and leads to application hangs or faults. Since anti-virus is a fact of computing nowadays, the best IT can do is measure the overhead of security programs and ensure that desktops, laptops, and mobile devices are upgraded regularly to perform optimally.
4. Virtual Private Network (VPN) Outages & Performance Problems
VPN usage is soaring. Alongside the growth of hybrid work, VPNs have become a requirement for access to data, documents, applications, and corporate resources. The problem is that VPN access usually comes with slow performance, higher latency, and lots of network overhead.
Often, corporate IT teams can't maintain the complex and changing routing that cloud-services demand. Possibly, the company has an "SSL Inspection" policy, adding even more overhead.
 All of these overlaid network technologies introduce more latency, more overhead, and more points of failure that should include monitoring as a proper digital experience security program.
5. DLP or Digital Leak Protection
Finally, one of the newer members of the security software family is Digital Leak Protection. DLP software monitors, detects and blocks sensitive data from leaving an organization and is focused on ensuring employees don't inadvertently make mistakes and don't behave maliciously. DLP software tends to consume plenty of resources, like antivirus and firewall programs.
DEM/DEX Platforms Provide Security Visibility
With all these systems in place to protect and serve the business, enterprise IT departments need a good way to monitor the effectiveness vs the loss of productivity. A DEM/DEX platform provides a good starting point, and the right DEM solution can help measure cyber protection overhead as well as ensure that cybersecurity programs are operating optimally.
Ensure the Service Delivery Chain is Healthy
Exoprise has long talked about ensuring that the entire Service Delivery Chain is healthy and reliable. What we really mean is that the entire chain of network, authentication, and authorization services and programs are not negatively impacting the employee digital experience.
From DNS to VPN, DEM and cloud-based monitoring platforms like Exoprise can ensure that your security systems are performing well and delivering the right content and collaboration that the business requires.
Deploy Exoprise for Ensuring Optimal Security Integrity
When it comes to ensuring that your SASE architectures or VPN infrastructure is operating well, deploy Exoprise CloudReady Synthetics. We have specific support for testing cloud-based proxies, measuring their latency and overhead and testing their availability.
CloudReady Synthetics for Continuous Test of SSO, VPNs, SASE and Zero Trust Architectures
Here's a sample screen from a SharePoint synthetic sensor that monitors SharePoint and the service delivery chain 24×7. This sensor is operating through a VPN, a Proxy and leveraging Microsoft Entra ID for single sign-on. Antivirus and DLP technologies are typically installed on the endpoint, Private Site that hosts Exoprise CloudReady: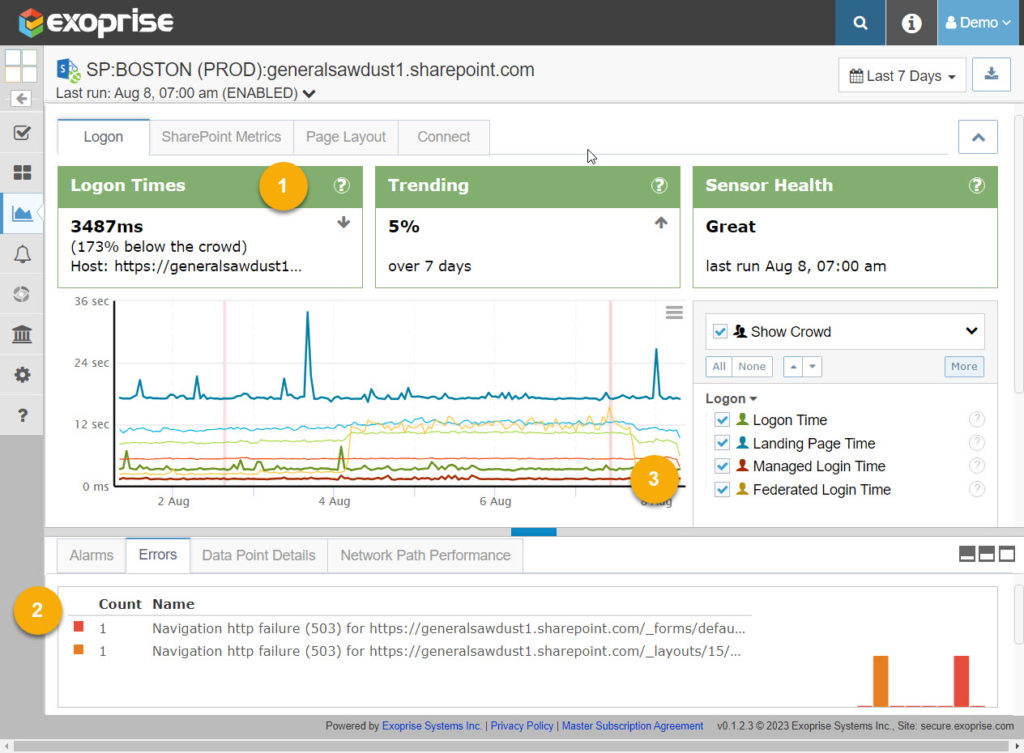 Login performance which measures the overall login experience and fully tests the VPN, the Single Sign On, any federated Cloud Access Security Broker (CASB) and other network technologies that may be in the data path. Performance data is crowdsourced so IT leaders and network administrators can benchmark their security measures for comparison.
Consecutive failures can be configured to alarm operations
Overall federated login time is broken down as part of the service delivery chain monitoring and benchmarked
Service Watch Real User Monitoring to Detect Slow Security Performance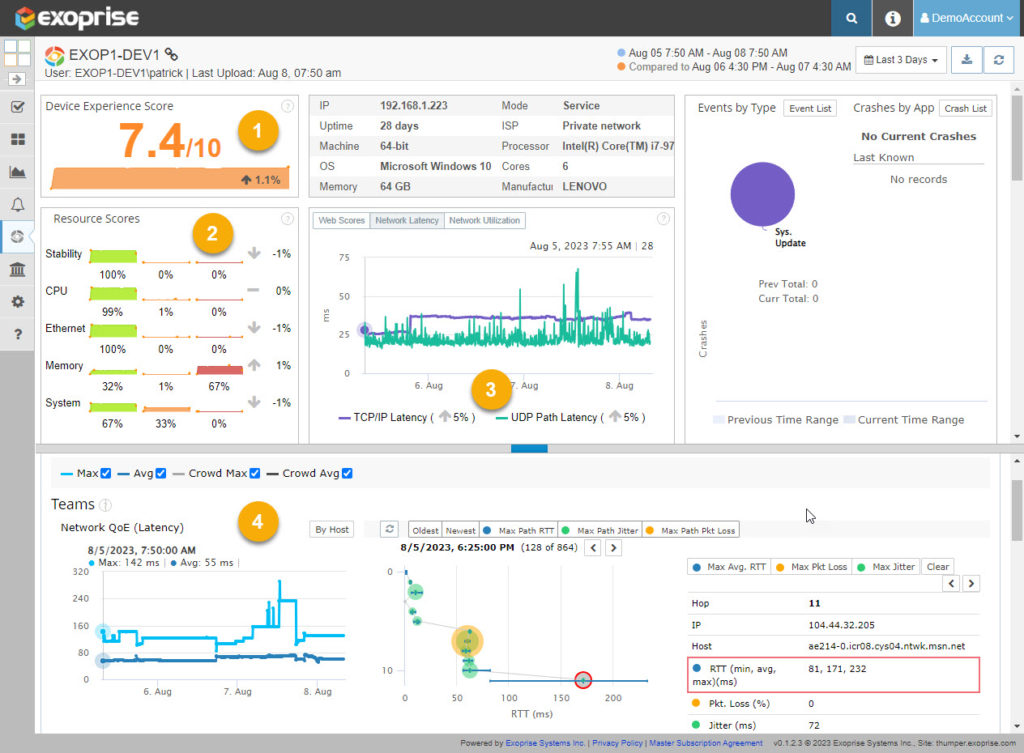 Overall Device Experience Score (DXS) can tell you whether SASE required software or antivirus is impacting the overall desktop experience
The DXS is composed of underlying resource and stability index scores as well as latency metrics. Quick trend indicators can tell you, at a glance, whether resources are being impacted
Across all the employees apps and services quickly see latency, including UDP path latency for collaboration apps include Microsoft Teams, Zoom, Cisco Webex and more.
Finally, when trouble arises, diagnose where in the network slowdowns are occurring
Start a Free Trial Today, Instant Benchmarks for Your Network Overhead
Try the Exoprise platform for free, and you will receive instant benchmarks on your SASE architectures, SSO, proxies, VPNs and more. Show your organization's strengths and look to see where improvements can be made.