Sponsored Post
Microsoft SCOM for Office 365 Monitoring? There Is a Better Alternative.
Do You Still Use SCOM?
Gartner predicts that spending on public cloud services will rise to 21% in 2023. Most organizations today support fully remote operations and use SaaS services from the cloud. But is your Microsoft Systems Center Operations Manager (SCOM) tool suitable for monitoring mission-critical services like Microsoft 365?
Don't get us wrong — SCOM is a comprehensive monitoring tool for servers, infrastructure, and apps such as Exchange and SQL. However, the recently released Microsoft SCOM Management Pack for monitoring Microsoft 365 lacks clout.
First, let's discuss some of the existing limitations of SCOM monitoring and how the new Office 365 Management Pack fits into your overall monitoring strategy.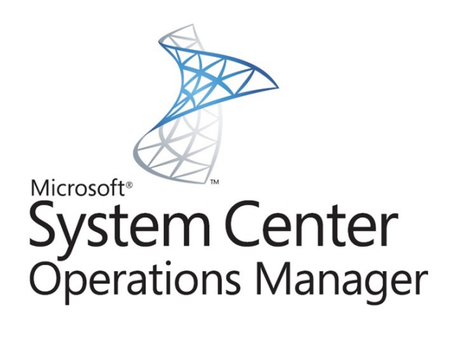 Cons for Microsoft SCOM
Too Many Warnings
SCOM is comprehensive and sets out to monitor each business component. As a result, an overabundance of alerts leads to too much noise in the system. Interestingly, 80% of those notifications are not critical and don't require immediate attention. And even with correlation, there is a sea of messages that need to be managed.
For IT operations teams, any downtime is costly, and not knowing which alarms need to be prioritized can be a challenge. You can reduce the number of alerts and fine-tune them based on some thresholds but that requires the assistance of SCOM experts and can be costly.
Limited Diagnosis
Reporting capabilities in SCOM are not rich either. There are few out-of-box and preconfigured reports that aren't as interactive. Also, you can't build your dashboards yourself. As a result, technology teams often struggle to drill down to the unit level to accurately identify and isolate the root cause.
Any reporting customization means more handholding from SCOM experts, which comes at a price.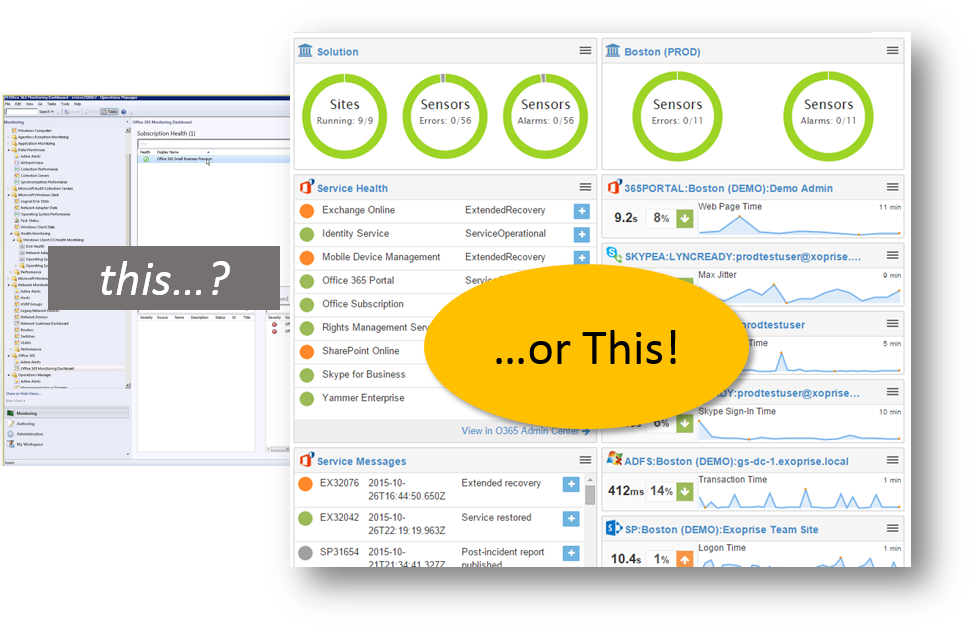 Lack of Centralized Visibility
There is no support for non-Microsoft and enterprise SaaS applications like Salesforce, Zoom, Citrix, VMWare, etc. Furthermore, to get complete monitoring and application performance visibility out of SCOM, one must install several other third party tools, leading to tool sprawl and increased maintenance costs.
Using multiple management packs to monitor different services is another option. However, the SCOM architecture fails to provide a unified end-to-end monitoring framework as there is no correlated visibility or integration with other packs.
Complex to Configure
Even with the latest version of SCOM, installations and configurations are cumbersome and can be a tedious process. Your team needs to maintain scripts and have a dedicated team to set them up. Undoubtedly, there is a learning curve behind it, and it's not an easy deployment experience.
Ultimately, you will have two groups of teams. One will perform the SCOM installation, and the other will be your internal IT team responsible for app monitoring – both of whose objectives may not always align.
No Crowd-Sourced Analytics
When troubleshooting application and networking issues for end-users, time is of the essence. Wouldnt' be helpful to quickly determine if services like Microsoft Teams is down for everyone or only your tenant?
With cloud performance insights derived from global customer base, network engineers can immediately answer this question and reduce MTTR by almost half. Unfortunately, SCOM doesn't deliver these crowd-sourced data analytics, and ITOps teams are blinded by visibility problems to move forward.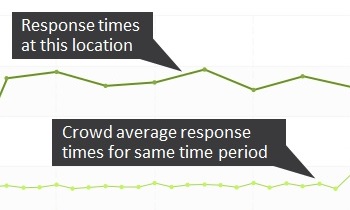 Why Microsoft 365 SCOM Management Pack Isn't Enough
The new package that was released in the summer included several updates. However, there are multiple caveats that all IT teams should be aware of.
Synthetic monitoring uses Graph API transactions and no emulation of real users signing in to the service and collecting performance metrics
API testing is fine for some services, but for measuring the true digital experience of end-users, you need to exercise more of the user journey through Microsoft products. Unless you have many API users and that's all they do. ;-)
No support for Real User Monitoring (RUM), which is critical for monitoring the end-user experience with apps such as Teams, SharePoint, and OneDrive
No crowdsourced data or metrics. We don't know how anything is measured without crowdsourced metrics. How do you know if your network or tenant capabilities are performing well? How do you reduce alarm chatter or pinpoint problems faster? Crowdsourced monitoring is how.
Only limited services are covered (Exchange, OneDrive, SharePoint, and Teams), and there is no clarity on what data collection takes place on the SCOM server side
Some health alerting features for tenants, but no SLA reporting
No monitoring or verification of Single Sign On or Multi-Factor Authentication
Maintain installation scripts, that can break when Microsoft makes changes at its end
Does not test any other SaaS, either synthetically or with RUM. You would need another pack!
Increase ROI with Exoprise Office 365 Monitoring
Exoprise is the leader in monitoring ALL of Microsoft 365 and SaaS apps for any user, app, or network. Whether you have a remote or hybrid workforce, end-to-end network visibility for Office 365 application services is critical. Invest in a monitoring solution that offers synthetics with RUM in a single pane of glass and generates a higher ROI for the business.
Here is a comparison summary for you:
| | | |
| --- | --- | --- |
| Feature | Exoprise | Microsoft Office 365 MP |
| RUM+Robots™ | Yes | No (Only Partial Synthetics) |
| SaaS Monitoring | Yes | No |
| Crowdsourced Monitoring | Yes! | No Way |
| Incident Diagnostics | Yes | Limited |
| Hybrid Monitoring | Yes | No |
| Easy Deployment | Yes | No |
| Code-free Synthetics | Yes | No |
| Networked App Support (Teams, OneDrive) | Yes | No |
| End-to-End Network Monitoring | Yes | No (Only Tenant) |
| Custom Health Status Dashboards | Yes | No (Need Additional Packs) |
| Self Service Platform | Yes | No |
| Proactive Notifications | Yes | Partial |
| Browser RUM | Yes | No |
| Integration with ServiceNow | Yes | Yes |