Sponsored Post
How to Choose a Microsoft Teams Monitoring Solution
When end-users constantly complain about bad network quality or poor audio video conference experience, you know it's time to shop for a Team's monitoring tool. And your Teams monitoring solution needs to be proactive, provide insight into hybrid work environments, and support real-time diagnosis of network issues for your end-users no matter where they work from.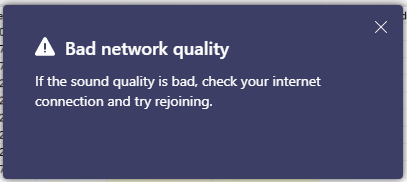 Business leaders rely more than ever on technology teams to deliver a successful company ROI. But problems with complex Teams deployment and unsatisfied workers can lead to increased costs and lower productivity. Unfortunately, Microsoft native admin tools lack complete coverage and visibility into the Team's digital experience for accurately pinpointing problems.
In this article, let's discuss some criteria you can use when deciding on a dedicated monitoring platform for the Microsoft Teams and Microsoft 365 cloud service.
More Than Just the Microsoft Call Quality Dashboard and Data
When your users were working from the office pre-pandemic, it was easier for IT to guarantee a consistent Team's experience. Why? Because all the network traffic routes through the same place – the corporate data center.
But now, with hybrid work, sometimes in the office, sometimes on the road, you need deeper synthetic transaction capabilities to monitor Teams performance from multiple vantage points. These synthetics should be able to measure Teams call quality metrics – all the way – from the endpoint to the application server.
Although the Call Quality Dashboard (CQD) provides high-level aggregated telemetry, the insights from the dashboard provide little help to troubleshoot ACTUAL users experiencing Teams problems. The tool highlights' poor experience on a monthly or daily trend basis, but won't provide the root cause of the problem. In addition, neither real-user monitoring (RUM) nor endpoint network monitoring solution comes with it.
Sometimes, network engineers will use CQD to identify patterns with Teams call quality metrics (jitter, packet loss, response time) and attempt to optimize to different locations or network conditions. That may involve making changes, waiting to estimate the impact. Rinse and repeat. It can take a long time to fix network issues with the Call Quality Dashboard.
But to monitor call and meeting metrics for an individual Team's user, you need to use the CQD in conjunction with real-time call quality analytics (RTA) – that's another tool you will need if you stick to Microsoft! 
And guess what?
RTA offers real-time telemetry only for scheduled meetings and conferences, not 1-1 call. In addition, telemetry is only available for the last 3 hours. After 24 hours of the meeting, you can no longer access and analyze Teams meeting data. How does that help when some outages last for hours, and you don't have the right Teams monitoring solution?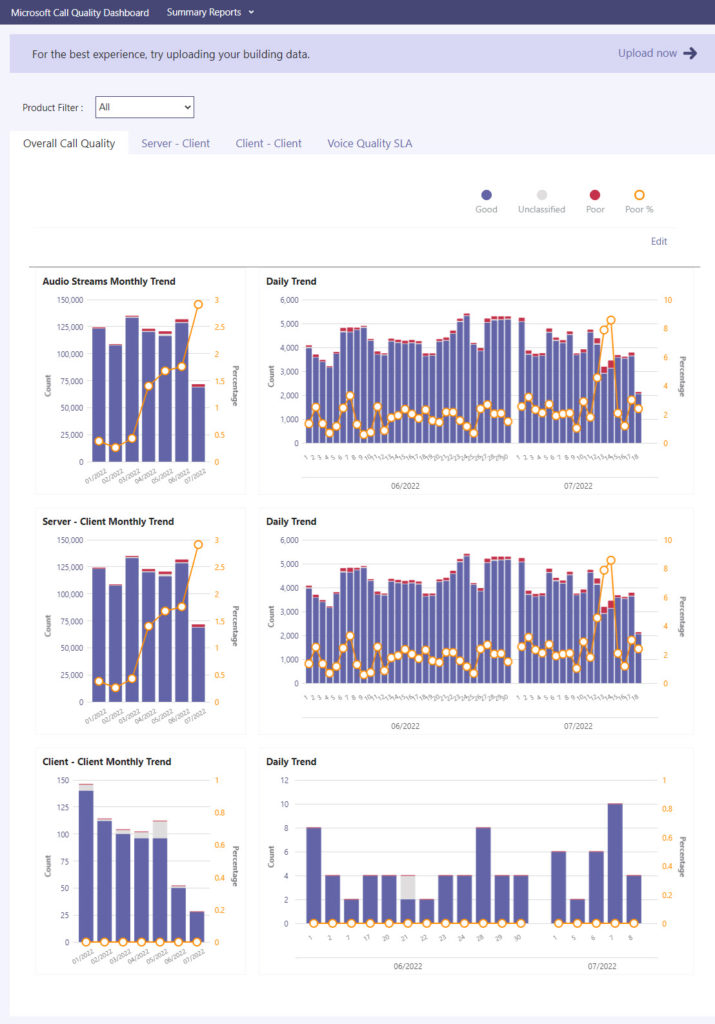 Your Chance for Better Diagnostics and Resolution
As discussed above, if IT needs to deliver a higher quality of service (QoS) to employees, they would need to run both CQD and RTA in parallel — which is may increase internal response times, troubleshooting, and frustrate employees. How?
Let's assume your employees are back in the office using the Teams Unified Communication (UC) application for regular business operations. During the day, a Teams communication support specialist determines a problem with a user unable to connect to Teams. They would then escalate the issue to a Teams communication support engineer who has access to RTA and obtain additional information about that user's call (devices, network, connectivity, AV, and content sharing issues). For example, after noticing a problem in the call quality analytics dashboard, the support engineer alerts the network engineer to check in CQD if the underlying issue is network-wide across the organization. Even then, it's not clear where the network bottlenecks are.
In another case, when users work from different geographic locations, the same process repeats using traditional ways of solving problems with Teams. However, given different network connectivity, ISPs, Wi-Fi strength, and gateways – identifying and diagnosing Teams issues under these circumstances is challenging and time-consuming.
A helpful Teams monitoring solution will include proactive Synthetic Transaction Monitoring (STM) as part of the solution. When you have users on the same network as the synthetic – it can cut troubleshooting time by 1/2 or more. Why? Because if the synthetic sees poor quality, no user on that network will do any better – you'll know before their call that there's a problem and where it is.
The flip side is true as well. If an end-user complains about Teams, but Teams synthetics are showing excellent quality – don't call Microsoft. Instead, look at the user's device and investigate thoroughly using a Teams Real User Monitoring (RUM) solution.
Investing in a single Teams monitoring solution that combines, manages, and analyzes all the above communication facets makes call quality troubleshooting more efficient – thereby improving the response time, reducing business cost, and ensuring a great UC experience for everyone.
Teams Freezing, Screen Share Delay? Catch Them.
Microsoft Teams is a perfect application for collaborating with team members from anywhere. Knowledge workers use video conferencing to share screens and make meetings productive.
However, like any other UC app, Teams can encounter lagging video, slowness, and screen freezing issues, especially during extended calls. The video stuttering and desktop or application sharing delay problems in Microsoft Teams can happen due to poor internet connection, weak system resources, or application related issues.
The question is, how often, and how quickly can your tool catch this issue?
Often a subset of info isn't enough to get to the root cause. One reason is that most Teams sessions, on average, are > 40 minutes to an hour, so rapid time to diagnose is critical.
Also, Microsoft CQD reports that distill the overall quality cover the entire session. As a result, this can mask issues that users will complain about, such as frozen video, delayed screen shares, choppy audio, etc., that might happen for a relatively short time.
You need synthetics to gather statistics more frequently for shorter sessions – that way, you have a chance to see all these common hiccups in quality that Microsoft data can't provide.
More importantly, your synthetics should show end-to-end network path performance, providing full hop-by-hop detail from the endpoint location to the actual media/relay in the Microsoft cloud. The CQD and CQA might say there's a network problem (ex. high jitter) but do not show where that's caused.
Furthermore, since Microsoft Teams is CPU and memory intensive, it can cause the entire device to slow down if there is no memory available for other apps and thus contribute to significant lag. Therefore, your team's RUM tool needs to discover this information about the health of the networked app, so IT can increase capacity and instantly offer remediation firsthand.
Goodbye Late Alerts, Stay Proactive.
Imagine that your company executives about to attend a Teams meeting call in 30 minutes. Unfortunately, Teams in your area suffer an outage during that time, and the app goes down.
That can happen with any application due to last-minute server upgrades or network migration. Unfortunately, at times, this is inevitable.
But would you rather hear from the executives that they couldn't connect to Teams and that the important business deal didn't go through, OR should your team have prepared and informed the business leaders to reschedule the call? We think the latter.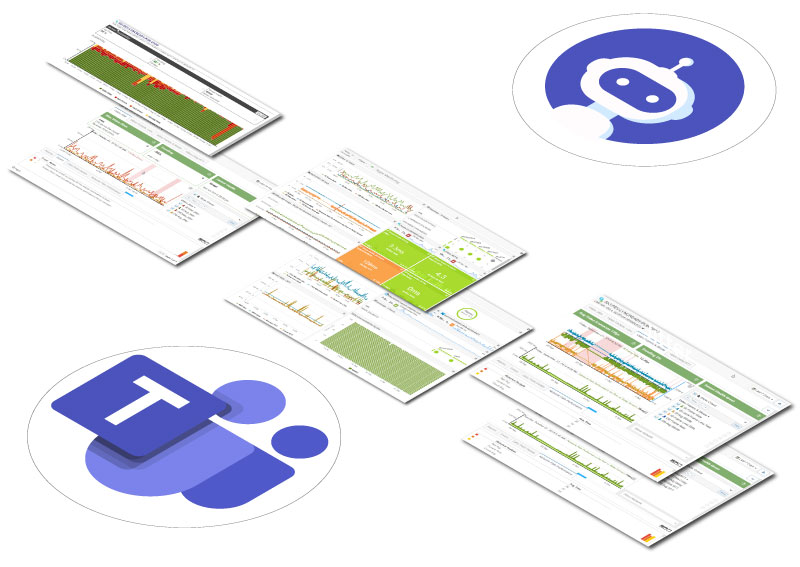 Proactive notifications alert your team members before that important Teams call, so IT can take the necessary steps to mitigate the problem. Dropped calls and poor audio/quality create a frustrating experience with reduced productivity for all employees. Slicing and dicing historical call data in CQD isn't proactive in any way.
Forced to be reactive isn't fun when your business demands 100% up-time and availability from collaboration services like Microsoft Teams. How good are late alerts or notifications for Teams uptime and availability?
Predict Teams problems from every location (branch office, corporate HQ, home, and cloud) using deep synthetic monitoring capabilities. Get visibility into Teams application performance and minimize user complaints by guaranteeing reliable service delivery and superior experience.
Does your Team's monitoring tool offer that?
Choose a Team's Monitoring Solution Based On Unique Data
When you have an agent that only monitors the Team's AV traffic, that isn't an accurate representation of monitoring the collaboration service. Legacy app monitoring tools are not sophisticated to monitor real-time communication through VoIP and video calling by Teams.
Instead, you should deploy sensors that connect to the Microsoft Teams/Azure infrastructure and run an actual conference test to measure end-to-end capacity, throughput, and network performance. The synthetic sensor can then capture real-time WebRTC statistics such as packet loss, jitter, frame loss, latency, and other low-level metrics – all this is first-party unique synthetic test data.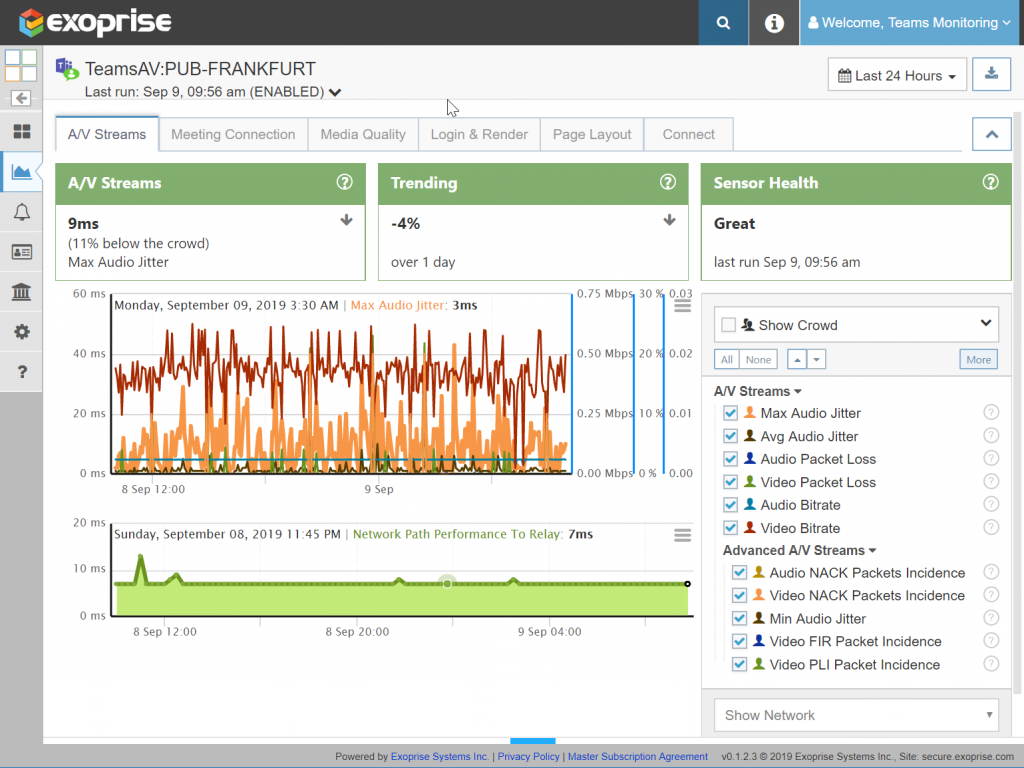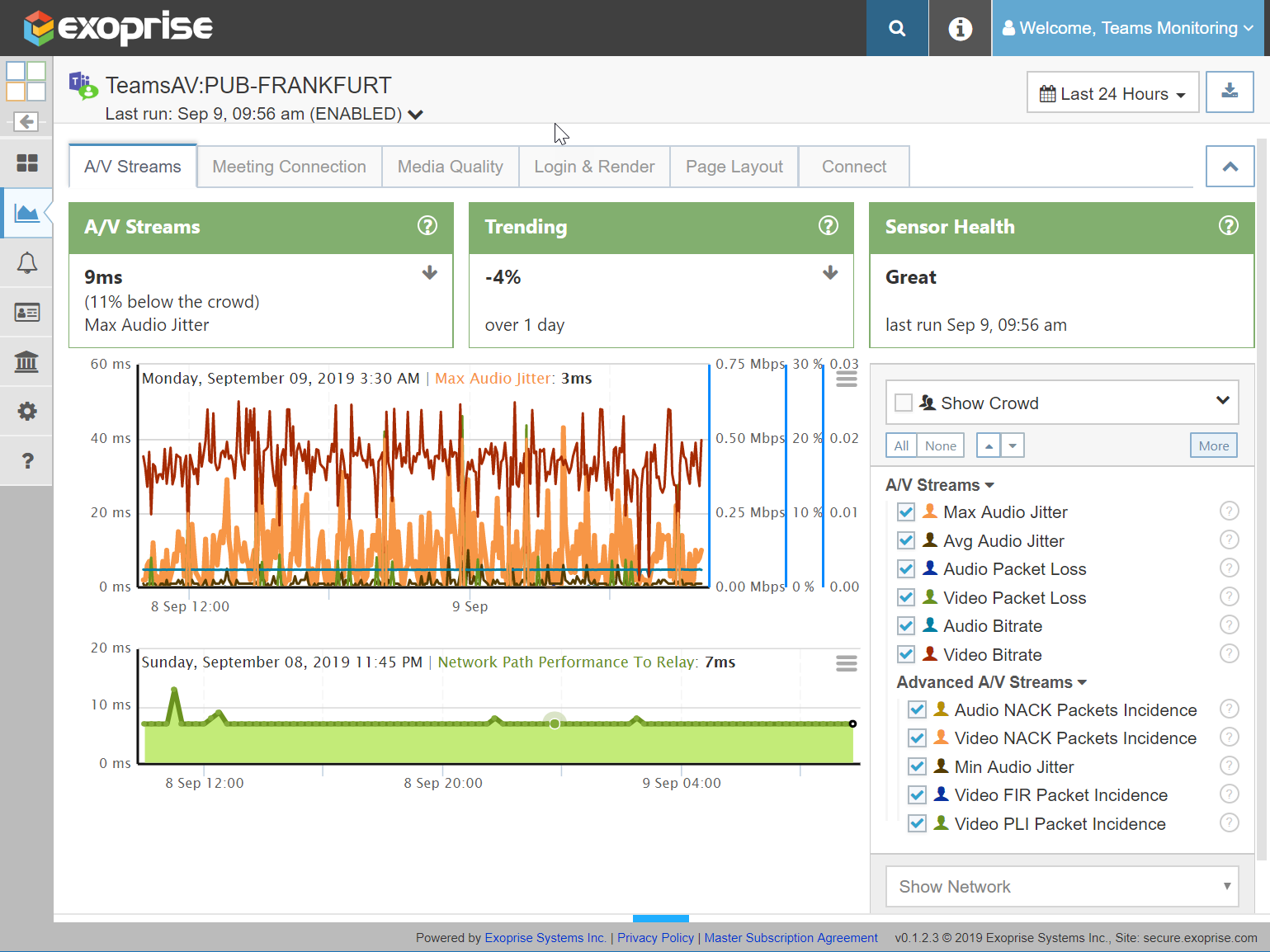 Detailed hop-by-hop metrics correlated with the WebRTC UDP calls for audio, video, and screen sharing should include the network path performance from the client machine to the actual Team's media/relay server in the Microsoft cloud.
This way, network administrators can effectively diagnose problems end-to-end with the Microsoft Teams infrastructure, local tenant, ISP, LAN, or WAN. When Microsoft makes any changes to its Teams software or network configuration, you need immediate insight into the effect of that change and not rely on CQD to accumulate data from real users, so you find out after the fact.
Choose a Crowdsourced Microsoft Teams Monitoring Solution
Is everyone having Microsoft Teams issues or is it just our tenant, our networks, or our environment?
You shouldn't struggle to determine if Teams is having problems with your tenant or everyone else and immediately know the answer.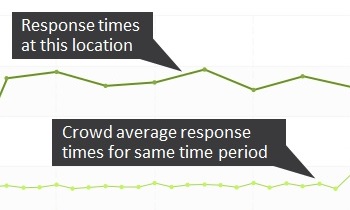 We can tell you that there is an easy answer to the above question with crowdsourced benchmarks that should be in a Teams monitoring tool.
Combine application monitoring and end-to-end network diagnostics to leverage the collective Internet insights from a global customer base. This baseline approach provides IT with instant visibility into the health of your mission-critical Teams communication service.
You can instantly compare and optimize Microsoft Teams performance metrics to other audiences accessing the app from their network. For example, after discovering that a user site's A/V packet loss is higher than the crowd, network engineers can take specific steps, such as increasing bandwidth, switching to a wired connection, etc., to relieve network congestion.
After making network changes in the above example, your team can quickly track and validate using the collective network intelligence.
Get improved Teams experience and benchmark your Teams deployment to the crowd.
Learn more about the power of the crowd in this white paper.
Complete Coverage for Any and All Protocols
TCP isn't the primary mode of transport for real-time media like voice, video and screen sharing. Most of the time, Microsoft Teams and its internal WebRTC stack will optimize for the faster streaming or User Datagram Protocol (UDP). This is due to reduced latency, lower overhead, and faster speed.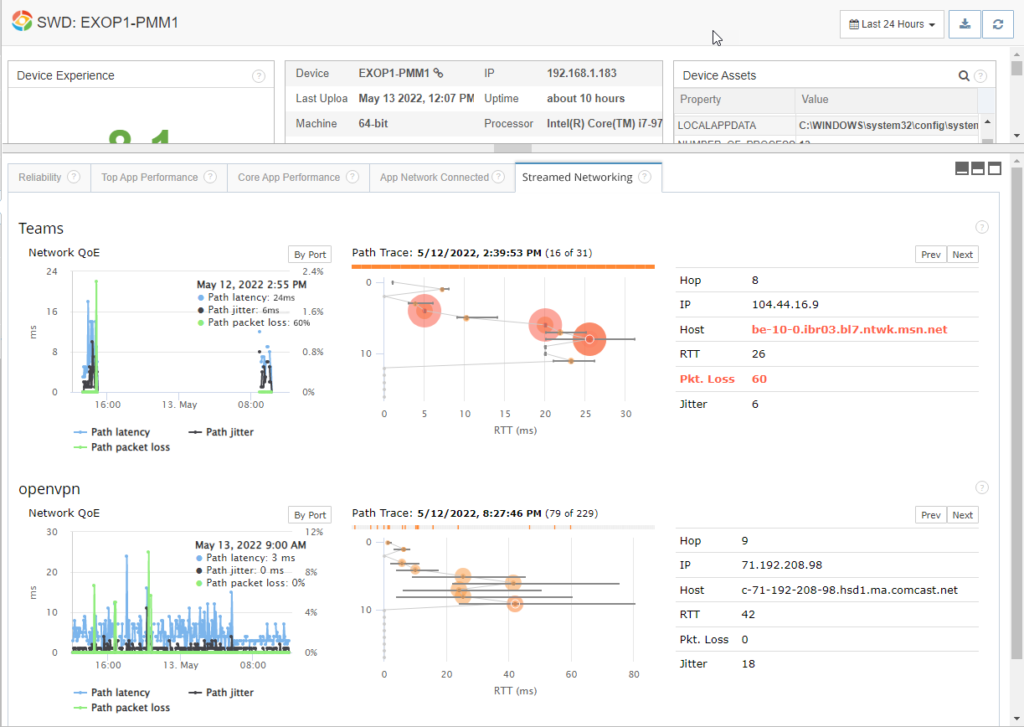 No matter what protocol you use for Teams conference streaming, your monitoring tool should collect metrics such as packet loss, jitter, Quality of Experience (QoE), and RTT so desktop and network admins can optimize the app performance for end-users.
How do you do this? Via deep streaming and connected network tracing.
In addition, desktop and collaboration administrators should be able to perform hop-by-hop diagnosis for Team's packet flow from any endpoint to the Microsoft application cloud server and pinpoint where the bottleneck is.
Deploy, Adopt, Monitor. End-To-End.
Your team needs end-to-end visibility across the performance spectrum of Microsoft Team's Unified Communications as a Service (UCaaS) solution.
But let's start with your network first. Is it sufficiently provisioned with adequate capacity for Microsoft Teams? Before you deploy Teams, ensure your network is fully optimized to handle the rigorous load and demand for a real-time communication application.
One of the organizations' most significant challenges regarding UC is maintaining a consistent and seamless user experience. If your network cannot handle the load to connect to the Microsoft Teams cloud service and new communication channels, it can risk your plans for Teams adoption.
So, what should we do?
Before deployment or network changes, thoroughly assess your network infrastructure to find performance and latency issues in audio and voice quality, desktop, application sharing, etc., before users encounter poor experience. Identify weaknesses and trouble spots in your complex network configuration. Then, test all your sites and connections between them for a successful Teams rollout and readiness.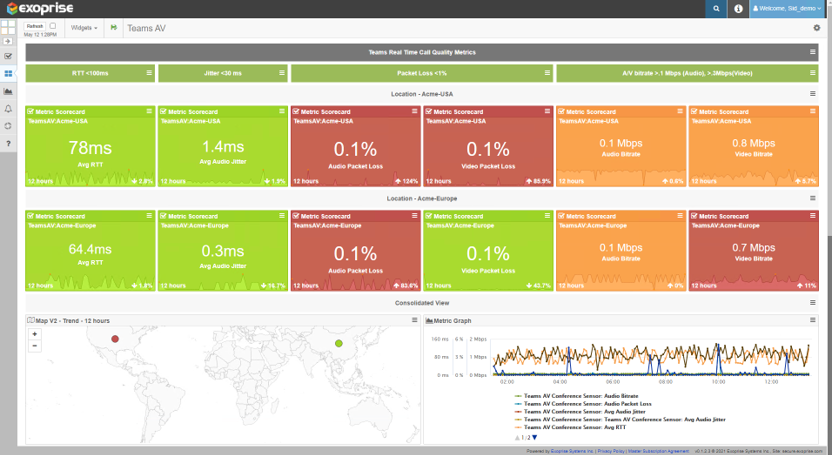 After rollout, you need proactive and continuous monitoring of Teams (as discussed above). Each day, things change in the network with new software deployed, new sites added, more licenses acquired, or configurations updated –this impacts the Teams digital experience. Therefore, your Teams monitoring tool must collect 24*7 data and analyze it to provide IT with actionable insights into Teams availability and uptime. By isolating the problems before they impact UX, your workers will be more efficient.
But wait, there's more.
As Teams usage increases, you will likely see support tickets from workers using either the Teams web client or desktop app. The tickets could be on problems such as Teams freezing during screen share, application crash, hang, or slow page load. Whatever the case, use a RUM tool to diagnose how the Team's app performs on specific endpoint devices and uncover the root cause of the underlying problem.
Utilize a 'better together' monitoring strategy for your business that encompasses synthetics and RUM.
Wrapping Up – Microsoft Teams Experience Parity for All
With several application performance and network monitoring tools available in the market, narrowing down a list for your specific needs can be challenging for any IT team.
Hopefully, we were able to provide guidance on how to shop for a Microsoft Teams monitoring solution. If you follow the pointers above, we are sure that your Team's experience will become robust and knowledge workers more productive.
You want to access always-on, real-time network telemetry into any Teams session from anywhere. Call quality analytics or RTA is not absolute. You need to know if the user's LAN network, WAN, device, Microsoft, or service delivery chain is causing the reported problem.
Exoprise Digital Experience Monitoring solution for Microsoft Teams is a game changer in the industry. Our platform focuses on generating unique data NOT available elsewhere with the only end-to-end synthetics that monitor complete Teams AV performance.
Get a free 15-day trial today and find out more.