Sponsored Post
5 Tips to Improve Employee Digital Experiences
Companies' reliance on technology grows daily. However, with Information Technology (IT), infrastructure complexities on the rise, overall system performance fluctuates. Any network, app, or service delay hinders individual and corporate performance. Identifying the source of these digital pain points resembles searching for a needle in a haystack. What follows are a handful of tips, so you sift through the hay faster, reduce outages, and improve employee digital experiences.
Technology provides enterprises with opportunities and challenges. New solutions offer them the ability to differentiate themselves in more ways than ever before. Therefore, organizations are assimilating digital transformation solutions at unprecedented rates. Since the pandemic, companies accelerated the digitization of their customer operations by three to four years.
But the infrastructure becomes more complicated, Each tool comes with its own learning curve. Furthermore, software often has overlapping capabilities. For example, many businesses now have many video conferencing applications, like Microsoft Teams, Zoom, or Cisco Webex, and they serve different use cases such as clients, customers, internal vs external. This is increased complexity, and lots more hay to search for that elusive needle.
Digital Workplaces Grow More Complex Every Day
Another problem is technology doesn't always work the way we need it to, especially with more employees connecting from home networks. Apps break, laptops freeze, video calls lag, and Wi-Fi signals quit. Then, users become frustrated, blame everyone, and call the help desk in frustration.
Because organizations rely so heavily on the computer infrastructure, they need to resolve problems ASAP. But many find themselves hamstrung. They have tools that measure how much network bandwidth is available, and other solutions tell them if the end user device is secure.
But those tools are not enough. They need a Digital Employee Experience (DEX) solution. This software measures how well the enterprise computing infrastructure does its job. As noted, potential problems can arise from anywhere. Therefore, where should a help desk tech begin the troubleshooting process, so they find the needle ASAP?
1. Start with the Network
Whether employees run Microsoft Windows, Apple's macOS, or Linux, they all rely on the network to move information from their end device to the destination. Consequently, a business requires a tool that supplies out-of-the-box deep and rich, continuous network metrics.
But not just for the traditional enterprise network. Today's configurations are much different than they were before the pandemic. Presently, many employees work from home for part or all the week. Or they're mobile, at a local coffee shop, or a shared and network congested co-working space. Therefore, the solution must be able to capture network telemetry from non-company issued devices and home networks.
The solution should not only collect data about all networks, but also provide recommendations for any problems. For instance, a weak Wi-Fi signal reduces performance by as much as 80%. The solution? Move the access point closer to the user. Proactively measuring network latency, jitter, or packet loss for an employee who is about to join that crucial customer call is smart business and a required facet of a proper DEX/DEM solution.
2. Make Sure the End Devices Are Working Well
End-user devices continually become more varied and complex. Currently, employees work with desktops, laptops, and smartphones, have different configurations and access a wide range of applications and services. Endpoint monitoring for visibility into the employee digital experience and performance issues is crucial – no matter where employees work.
As these systems become smarter, the volume of information and their activity increases, and so do possible problems. In fact, new hurdles arise. With systems now in the home, family members use them, go to inappropriate sites, and download bogus software. The right DEX solution informs the tech team how the system is working, provides remediation, so shortcomings are addressed, performance improves, and the right device upgrade cycles are chosen.
3. Focus on Collaboration Applications
As computers become more powerful, organizations automate more functions, and decisions are made faster. Therefore, employee collaboration has become the cornerstone upon which work gets done. Unified Communications (UC) tools and Unified Communications as a Service (UCaaS), like Microsoft Teams, have replaced traditional face-to-face conference room exchanges. When employees have issues with UC apps, work stops, and the potential trouble spots are plenty. In traditional hybrid and remote work environments, poor audio video quality; slow desktop and appli­cation sharing; and authentication snafus are some of the potential hurdles that keep employees from doing their jobs.
So, businesses need a robust DEX monitoring system. Exoprise is the ONLY vendor that automates, tests, and proactively monitors the end-to-end performance of the live Microsoft Teams audio video (AV) platform as well as the underlying Azure infrastructure.
4. Check SaaS Applications
Firms have invested heavily in the cloud: $253.62 billion in 2023. When SaaS apps are slow, page load time is poor or unavailable, business grinds to a halt and calls flood the help desk. What's needed is a combination of automated synthetic transaction testing for proactive alerting AND real-user monitoring tools for complete employee coverage. Such a system proactively alerts IT and employees when SaaS and web applications are slow or unavailable. Scripts are triggered when thresholds are hit, and the system gathers more performance information. The solution then presents performance data in easy to follow dashboards and reports, so systems are quickly back on track.
5. Upgrade Your Monitoring Tools to Solve Today's Headaches
The past generation of monitoring tools focused on a select item, a piece in a puzzle, often in the corporate LAN/SD WAN or a legacy datacenter. Nowadays, companies need a holistic view of what is occurring both in the office and throughout the Internet. They require information about different elements: the number of desktop computer errors and crashes; network speeds; local processing speeds; page loading; and network uptime. Only with that information can they piece together what is happening throughout their infrastructure and understand its impact on users.
Exoprise Marries Synthetic Transaction Monitoring and Real-User Monitoring
DEX monitoring is a complex process, one that requires triaging information from a few different performance management tools. Exoprise combines CloudReady Synthetic Transaction Monitoring (STM) and Service Watch Real-User Monitoring (RUM) to measure employee digital experiences with SaaS, Desktop, and networked applications.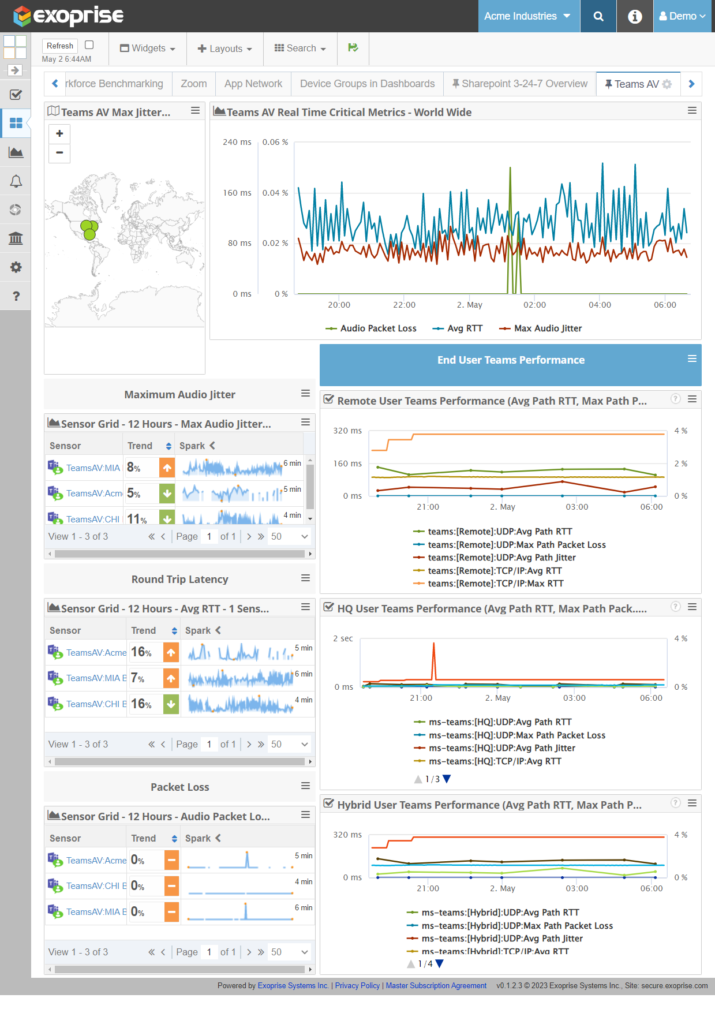 Its modern Digital Experience Monitoring (DEM) practices encompass synthetics for proactive insight and RUM to provide complete coverage for hybrid work. Leveraging both technologies within a cohesive platform enables IT technology teams to deliver superior employee digital experiences, regardless of where they work from and what systems they use.
In today's digital world, staff need the flexibility to collaborate from any location without disruption. Consequently, businesses must ensure fast response times and constant availability for users working in the office, on the road, or at home. To meet this need, organizations require a robust, holistic DEX solution, and Exoprise's SaaS-delivered platform provides one, so technological advances help rather than hinder the enterprise.