Sponsored Post
Digital Experience Monitoring Growth For the Business Win
What is Digital Experience Monitoring (DEM)?
Application Performance Management (APM) measures how a SaaS or Web application performs on the backend (for Devops). End-User Experience Management (EUEM) focuses on user behavior within those applications. Network Performance Monitoring and Diagnostics (NPMD) collects network telemetry to facilitate performance degradation. DEM combines all these tools to holistically look at the entire digital journey and see how each dependency drives successful experiences for customers and employees. These dependencies include services like the cloud, SaaS, the Internet, home networks — things often outside your control. But your team is still responsible for delivering a great digital experience over the web.
DEM is an emerging area, a growing discipline within IT, and a new Gartner category. For IT Leaders it can help:
Optimize the end-user experience for work from anywhere employees
Visualize application issues such as slowness from user vantage points
Accelerate root cause and fault analysis
Quickly isolate bottlenecks in the service delivery chain
According to Gartner's market guide definition for Digital Experience Monitoring
Digital experience monitoring (DEM) is a performance analysis discipline that supports the optimization of the operational experience and behavior of a digital agent, human or machine, with the application and service portfolio of enterprises. These users, human or digital, can be a mix of external users outside the firewall and inside it. This discipline also seeks to observe and model the behavior of users as a flow of interactions in the form of a customer journey.
DEM is gaining importance in the business world by bridging IT initiatives to business outcomes such as revenue margin, customer satisfaction, employee productivity, etc. Solutions that DEM uses include:
Synthetic transaction monitoring
Browser-based real user monitoring
Endpoint device monitoring
Real-time network visibility for a 360-degree view of digital experience for end-users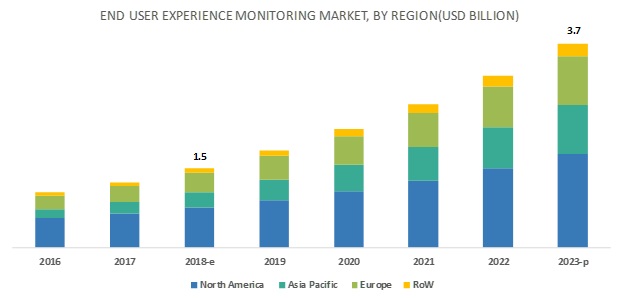 Source: MarketsandMarkets
Why is Digital Experience Monitoring Important?
IT admins face numerous challenges in this age of work from anywhere to support a remote workforce and deliver a superior digital experience. As the cloud becomes the new data center, the Internet evolves as the new gateway, and SaaS gains prominence; this combination leads to a complex hybrid operational environment. Visibility across various services, platforms, and underlying networks down to the end-user workstation has become necessary and a key driver for aligning business and technology support teams.
Traditional Monitoring Tools Aren't Enough
One of the biggest challenges with existing tools is that monitoring takes place on servers and websites, but there is no insight into the real-time user experience. That's the gap DEM vendors are trying to fill. Additionally, these tools are overly focused on metrics like MTTR or SLA that have limited to no relationship to employee satisfaction in business outcomes. Therefore, helping employees stay productive and perform their work efficiently are new goals for modern businesses.
XLA (eXperience Level Agreement) plays a significant role for organizations with a limited view of third-party cloud services, ISPs, etc. However, another limitation of these technologies is that they don't include qualitative feedback from employees. It's like a classic watermelon situation where all app performance metrics are green from the outside, but employee experience metrics are red from the inside.
Monitoring Apps You Don't Control
Experience matters. As the digital transformation paves the way for modernizing IT infrastructure, tech managers are struggling to do their best to prepare a business case to move applications and services to the cloud. Although this type of transition is nothing new, measuring the end-user experience makes headlines for customers and employees. But when internal SaaS and web applications move to the cloud (like Exchange, SharePoint, or other), IT loses control and visibility. The same goes for accessing external enterprise SaaS applications in the company.
Understanding the workings of the cloud, the complex service provider environment, and the dependencies of service chains make monitoring a challenge. And when these services are delivered to the end-user, there are multiple hops such as local ISP, gateway, Internet, DNS, etc., along the digital journey. As a result, traditional monitoring tools fail to monitor the end-user experience and worse, locate the network bottleneck.
Work from Anywhere Needs are Growing
The country is not out of the woods yet for Covid-19 and there is a continued demand to work from anywhere. Employees have adapted to a new "remote" reality, and chances are your workforce won't want to return to the office either.
New business models are emerging that offer subscription services to work in cafes, hotels, private offices, and various residential environments. In each of these places, employees work on different laptops, mobile phones, and desktops. As a result, the Internet experience to collaborate and remain productive on these devices will be different. Thus, network admins and operators must be more than willing to incorporate these new circumstances into their SaaS monitoring strategy and adjust to this further employee experience decentralization.
By 2025, 70% of digital business initiatives will require I&O leaders to report on the business metrics of digital experience, up from less than 15% today. Gartner Market Guide for DEM
Types of Digital Experience Monitoring Tools
As discussed above, traditional application and network monitoring tools are looking at one side of the IT operating model and exposing vulnerabilities for the end-user. These tools existed since networks existed but don't provide visibility into all end-user experience issues. For example, endpoint application crashes, slow browser app, variable home Wi-Fi signals, etc., can easily cause frustration. And trust us, not all problems are going to be within your control. Some of these issues are discovered due to user-submitted helpdesk tickets and not through an automated alert function.
Synthetic transaction monitoring (STM) or active monitoring uses behavioral scripts that run 24/7 and can identify potential performance issues with SaaS apps (Microsoft 365, Salesforce, Workday) and the cloud in general. If you plan an upgraded migration in production, confidently test all changes before and after with benchmarks. As admins, you want to proactively discover all issues before they impact worker productivity. Active monitoring doesn't wait for a user to have a problem before IT knows.
Real user monitoring (RUM) or passive monitoring understands application or endpoint issues from the user perspective. Installed agents record all transactions or events happening on a browser or workstation along with network synthetics to isolate issues affecting individual performance in real-time. With RUM, you get complete coverage knowing that you have your environment covered for everyone.
The ideal DEM solution combines both of these monitoring techniques to minimize business downtime and ensure continuity. Complete your DEM strategy with:
Active and passive monitoring of SaaS apps and digital experience score for every user
Hop-by-hop network path visualization and analysis
Browser plugin with secure data collection and configured URLs
Composite device metrics (CPU, memory, I/O, Disk) collection to isolate system resource problem
Categorization of experience across web, desktop, and network
Troubleshooting issues on individual devices
Consolidation of existing tools and agents, including ITSM for a single pane of glass
Benefits of Digital Experience Monitoring
DEM is unleashing a new way and helping enterprises get a better grip on their operations to sustain the business. No wonder why the DEM market is growing at a double-digit compound rate, shaping enterprise digital transformation initiatives, and the momentum continues to build.
"Due to Covid, our IT model has shifted from primarily supporting call center operations to supporting a significantly larger virtual environment, and that was when we became interested in better measuring digital experiences from the end user's perspective. Synthetic sensors in our central data centers collect performance data on Microsoft 365 but, we wanted an even more complete picture. Together with a real user monitoring on-demand solution from Exoprise, we can better understand the issues of our users at any geographic location," said Kevin Santos, Senior Director of IT, Network Operations at BCD Travel.
Improve Employee Experience
Technology is becoming the lifeline for employees as they learn to collaborate virtually in a remote work scenario. IT can obtain a user-centric view of how apps and services are performing from the experience scores. Institutionalizing DEM across your enterprise can help answer – How is the endpoint performing? Is the problem with the ISP, provider, or individual network? Are SaaS issues affecting regional or global users? When users access a new enterprise app, what is their overall quantified digital experience?
True Root Cause Analysis
Many vendors out there show where the problem is happening and but what about why the problem is happening? With advanced telemetry collection via synthetics and RUM, you can easily understand why a problem exists that affects user performance and productivity. Accurate root cause analysis can accurately trace the problem from an endpoint to an application to the ISP to the cloud provider in a linear service delivery chain.


Break IT Silos
Managing end-user digital experience is indeed becoming the norm. But it's no longer the responsibility of a single team. Instead, several IT personas such as application and service owners, help desk, network administrators, NOC operators, and VDI/Citrix admins are now part of the same team delivering superior service to end-users. Why? When apps move to the cloud, app owners need to understand how remote employees consume the service. Should there be an outage, they need to work with the help desk to identify and isolate the issue. Similarly, Virtual Desktop admins need to test and ensure that workers can access IT assets and resources through VPN from their machines. And if not, they need tools like DEM to spot bottlenecks and collaborate with other personas.
Learn more
Benchmark SaaS Application Performance and User Experience with DEM
I&O leaders must use digital experience monitoring to optimize business transactions and customer journeys regardless of where workloads reside. Gartner, Market Guide to Digital Experience Monitoring, Sept 2019
In addition to ongoing monitoring with DEM, businesses can continue operating more efficiently and securely if they access instant collective network intelligence about mission-critical SaaS applications. These crowd-powered Internet insights combine application monitoring and network diagnostics across global customer locations. That way, network admins can optimize the end-user experience by adding more infrastructure capacity or suggesting upgrades to home Wi-Fi. Ultimately, you will have a strong case for network upgrades backed by crowd data and accelerate decision-making for your team.
When your remote employees are on that critical Microsoft Teams conference call and experiencing jitter, packet loss, or latency, you want to know right away. Crowd-sourced benchmarks via synthetics help you understand whether or not your network or your Teams application delivery is up to par with the anonymized aggregate. Furthermore, telemetry collection from browser and endpoint devices can provide digital experience baseline scores for immediate comparison. Users with low experience scores can receive immediate troubleshooting priority and reduce MTTR.
Crowd-sourced benchmarks help support teams
Evaluate Exchange Online slow mail queue metrics with others
Compare SharePoint online health scores against the crowd
Test Microsoft Teams performance (RTT, connect time, jitter, packet loss) before and after network or system upgrades
Monitor end-to-end Microsoft 365 app performance for DevOps
View Digital Experience Scores across your entire workforce
Learn more in the video below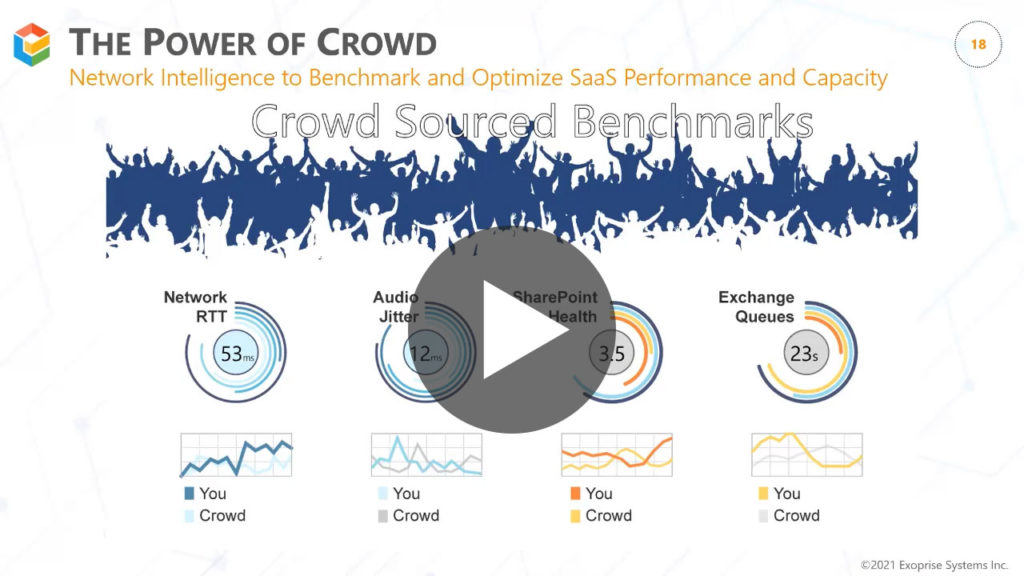 Best Practices to Improve Digital Experience Monitoring
There is no doubt that hybrid work is here to continue. Forrester predicts 70% of US and EU companies are planning a complete shift to hybrid work. And while future awaits us, we need to prepare ourselves for this dominant reality. Here are some of the best practices to manage and improve your digital experience monitoring process.
The Experience Strategy
Businesses now have to think about the overall experience picture if they need their employees to stay productive and efficient. As we advance, combining synthetics and real user monitoring for enterprise apps (Microsoft 365, Salesforce, Workday, etc.), legacy apps, and SaaS apps will be the right strategy for digital experience monitoring leaders. The more context and insight derived from a DEM solution, the better the troubleshooting and remote worker experience. Also, you need to measure performance in similar real user network conditions for accurate assessment.
Employee Productivity
Remember that the technology team will need to support various work models that employees desire whether from the home, office or road. This flexibility will come with challenges to resolve network issues or outages as employees relocate from one place to the other. Therefore, delivering seamless network connectivity and providing a superior digital experience becomes a priority for the entire organization.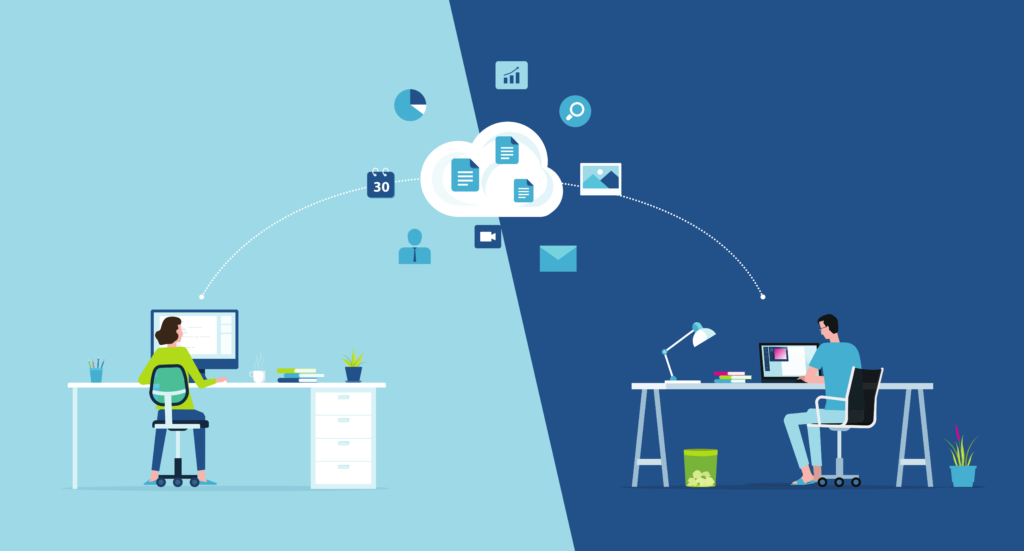 End users working from anywhere
Service Desk Efficiency
Consolidate and integrate your existing monitoring tools with ServiceNow or any other ITSM. These tools could be network operation dashboards, legacy monitoring apps, Microsoft SCOM, CQD, etc. So when customers or employees start noticing app performance degradation no matter what location, you can receive automated alerts and start troubleshooting faster. Get coverage for the entire end-user experience.
Technology Empowerment
Equip your remote workers with workstations, PCs, or laptops with all the tools necessary to get the work done such as Microsoft Teams, Outlook, Zoom, VPN, remote access, VDI, etc. Regularly monitor app and employee experience from endpoint devices and browsers using a combination of synthetics and real user monitoring. Foster collaboration and improve the end-user computing experience.
Digital Experience Metrics
You need to develop new metrics in collaboration with the business and eliminate those that no longer serve the company. For example, as you move to the cloud from an on-prem application, think about what KPIs (employee satisfaction, NPS, and digital experience scores) would matter with a new DEM monitoring tool. Then, tie it to business outcomes such as improved productivity, low attrition, higher revenue, etc., in the long run.
Exoprise Digital Experience Monitoring Solution for Business Transformation
Exoprise offers an ultimate digital experience monitoring solution for your cloud, network, SaaS apps, and workplace technology. With the pandemic hitting millions of Americans working from home, IT had to pivot its operational model overnight and ensure business resumes friction-free. However, to achieve that reality, support teams need true visibility down to the endpoint. So, in 2021 along with synthetics, we capture advanced end-user experience telemetry from endpoint devices for all thick-client apps. Here's what makes our solution unique in the market.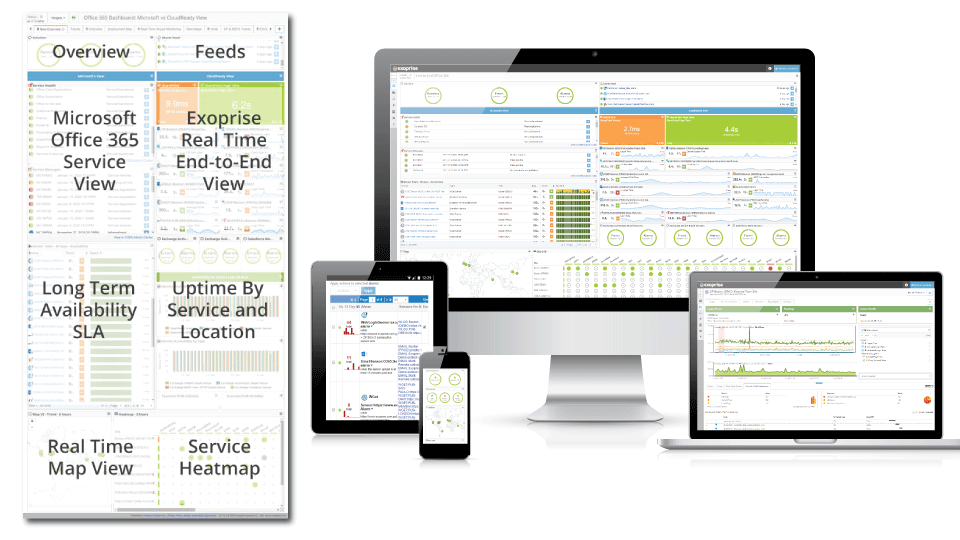 Real-Time Teams Digital Experience Dashboard
| | |
| --- | --- |
| 1. Synthetics and RUM Together | Our CloudReady Synthetics can alert you with proactive insights about mission-critical business applications' health, so your end-users aren't reaching your first when something goes down. Combine this intelligence with Service Watch Real User Monitoring context derived from browser and desktops to provide a complete experience picture. |
| 2. Monitoring ALL of Microsoft 365 | Whether you are using your favorite MS365 apps (Teams, Outlook, OneDrive, SharePoint, Exchange Online) as a web client or thick client on the desktop, Exoprise captures hop-by-hop network visualization and real-time metrics such as latency, packet loss, response time, etc. so that your team gets the best experience. |
| 3. No Scripting Required | While other solutions need to have you write scripts to monitor SaaS applications, we do heavy work for you. Trust me, not all of us are pros at coding. When your service provider (Microsoft) upgrades its services, we make all the changes at our end to our sensors to capture the right telemetry. That makes your deployment easy and faster. |
| 4. Instant IT Benchmarks | We crowd-source data analytics from all of our global customer locations. Data is anonymously collected, diced by region or ISP to understand if the service issue is with you or everyone. In 2021, you can baseline and compare digital experience scores for every user in your organization. |
| 5. Out of Box Support for 50+ SaaS Apps | How easy would it be to work with a vendor that supports monitoring most commercially available enterprise apps belonging to different categories? For example, our sensors can monitor MS365, GSuite, Salesforce, Workday, ServiceNow, Okta, ADFS, OneLogin, Box, Azure, AWS, etc. Additionally, we can monitor the performance of any custom or internal URL, API, protocols, and Integration. |
| 6. Proactive Network and End-User Experience Intelligence | Let's assume Microsoft fixed a problem at their end. How do you know if the fix works in production? Exoprise integrates service provider feeds from Microsoft to give a 360-degree view of the health of your tenant. As a result, you get both synthetic and RUM coverage for the usage and experience of MS365 app services. |

"64% of businesses that we recently surveyed said that they are going to invest in various data and analytics technologies to improve employee experience at their firms, particularly as technology is the lifeline for employees in a remote work scenario. And over half of the businesses said that their technology teams and the individuals on those teams explicitly have a goal on providing the right technology to improve EX, so that's a big change," said Andrew Hewitt, Senior Analyst, Forrester.